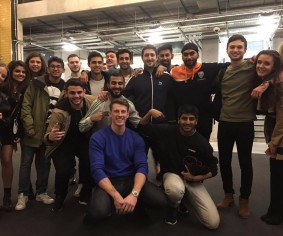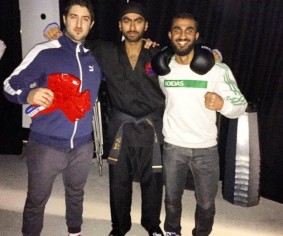 Amo Landa BDS 5 – Charity Fight Success
Not too long ago one of our final year BDS students, Amo Landa took part in a charity Taekwando match in order to raise awareness for Francis House (link below). He won the fight by unanimous decision, what a result!
He took some time out of busy university life to sit down with the MDSS and have a chat about his recent win.
AA: Thanks for sitting down with us Amo and congratulations on your win!
AL: Thank you for having me!
AA: So the first question we have is – why Taekwando, when did it all start?
AL: I knew I would get asked this question, I started Taekwando around 10 years ago. My dad, who was already a black belt, encouraged my older brother and I to get involved. The reason my dad started was because of his older two brothers, who are also black belts – you could say it runs in the family.
AA: It's a bit of a family affair then isn't it! How did the training regime work out for you?
AL: The fight was announced just after Christmas, as you all know overindulgence is rather common around the festive period! Starting from early in January I had to lock my self away and make sure I wasn't going out eating junk, I was preparing all of my meals and started taking controversial protein shakes again! When your training 5-6 times a week its so important to take supplements such as cod liver oil to help keep joints in shape.
AA: Thats amazing, now that you have such great habits in place, do you see yourself continuing them into the working world as a de stress mechanism?
AL: Definitely, I did Taekwando before Dentistry, I have kept it up during and will most definitely do it afterwards! Dentistry can be a stressful profession, having something outside of the world of teeth is very healthy indeed for the mind, body and soul! The discipline the sport and art has taught me will serve me well in all aspects of life – commitment, hard work and picking yourself back up after being knocked down.
AA: Thats really inspiring! How cautious are you as to obtaining an injury?
AL: It is a risk you have to take, you can't live your life in bubble wrap and the thrill of the sport is too addictive to leave. Fingers crossed I wont encounter any injuries that will affect my clinical capacity. Who would have thought combat sport and Dentistry can go hand in hand!
AA: Well do be careful Amo. Could you tell us a little more about the charity?
AL: Working with MMU Taekwando, MMU Cheer Elites & MMU Pole Dancing society we agreed on  supporting the Francis House charity, a charity supporting terminally ill children, granting them any last wishes and providing financial support at the hardest of times. We raised around £1500 and for those of you who would like to donate here is the link; http://www.francishouse.org.uk.
AA: Well done Amo, thanks for raising awareness for the charity and spreading the message to our students that it is very important to have a healthy life outside the world of Dentistry!
Have a healthy, happy and productive week all!
ARIYAN S ARAGHI
CO – PRESIDENT @ MDSS
MARCH 16'