Alex Rovira-Wilde & Nick Potter captains of Athletico Dentico sat down with the MDSS to talk about the ups and downs of the university football season, and divulged into the antics of their recent tour to Liverpool.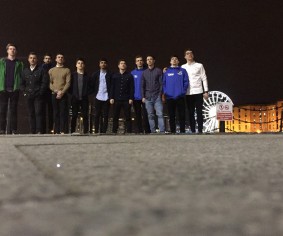 AA: Tell me boys, how has this year been? How are you getting on in the league and where do you see the team going?
NP: This season has been one of the most challenging yet – with the loss of a number of players last season, to competing in the top division of the Manchester Inter-Society League after winning the second division last year. However, as dental students, we're always looking to challenge ourselves and this season has been no different. We're currently 3rd in our league with five games to go which is a testament to our squad and the hunger, desire and commitment they have demonstrated this season.
We've played a variety of teams this year all with different playing styles and agendas. We've had some real battles and the lads have shown great character on many occasions to grind out results. We pride ourselves on being a team who plays good football so we're delighted to be in the position we're in whilst maintaining an enviable playing style.
AA: Thats great to hear, rumour has it you were recently in Liverpool, what took the team their?
ARW: We've been keen to test our footballing credentials properly against another dental school for a while, so we were delighted when Liverpool agreed to host a game against us. Being the closest dental school to us, and having a local rivalry meant that naturally they would be the first school we approached regarding a game.
We were pleased to go over and win the game 4-2 before having a couple of drinks with the Liverpool dental students. Of course there are a number of logistical difficulties in organising a big group of lads, but our excellent time management and organisational skills shone through to ensure the weekend was a glowing success.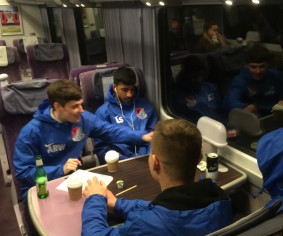 AA: Glad to hear everything went smoothly! It's great to heat Athletico Dentico are promoting a healthy and social life outside the world of the oral cavity.
ARW: We believe that sport is very important and really gives life at university another dimension, particularly with a team sport like football. Keeping fit is good for the mind, and socialising with other people in different years is always a plus. It gives us something else to focus on in what can be an otherwise stressful academic calendar, and it's always nice to represent the school doing something you're good at!
The success of Liverpool encouraged us to take things one step further and take things to the European stage for our 2016/17 pre season tour. After liaising with Valencia dental school, we have managed to arrange a game as well as various other activities for a week. Much of the tour plans are top secret but as the information trickles out to Sky Sports News, we shall confirm (or deny!) with an official club statement. We look forward to sharing a full tour review on our return!
AA: Have fun in Valencia, make sure the photos are taken in their numbers and the red wine enjoyed in its gallons!
ARW & NP: We hope to continue with the success of the last few seasons, ensuring we have plenty going on socially as well as competing for silverware against the 50 other society teams based at the university. Getting a degree is, for most, a once in a lifetime opportunity so we hope to make sure that playing for Athletico Dentico adds lots to that experience for all involved.
We will be finishing the season with a game against previous Manchester dental graduates in the annual 'Old Boys' game. And we also hope to arrange a 'Staff vs Students' game to show the tutors who is really boss!
AA: Greatly anticipated events then gents and congratulations for all this year!
For anyone wanting to join, we hold informal trials at the start of the season which we advertise around the school. However we're always looking for new players to join so we welcome people to come down and train, even if they want to just keep fit and get involved with the lads. For anyone wanting more information you're more than welcome to get in touch!
ALEX ROVIRA-WILDE
NICK POTTER
BDS 4
ARIYAN S ARAGHI
CO – PRESIDENT @ MDSS
APRIL 16'